Description
This 2-in-1 poly rattan sunbed set is the perfect balance of comfort and elegant style to accompany your beautiful outdoor space. Suited for hours of lounging by the pool or partying outdoors with friends, this versatile outdoor furniture helps you enjoy those warm, sunny days in effortless luxury.
This is a lightweight, flexible product that can be set up and taken down with little effort. The steel frame is powder-coated and weather-resistant, ensuring you have a piece of furniture that's built for the long haul.
Comfort is assured with this daybed's luxurious, foam-filled cushions. They are incredibly soft and are water-resistant, with removable, machine-washable covers. Revolutionise your outdoor space into a stylish, luxurious heaven with the addition of this deluxe sunbed. Please note a weather-resistant protective cover is recommended when this sunbed is not in use.
Features:
Versatile bed-seat for relaxing rest or entertaining guests

Contemporary style will match the modern patio, balcony or apartment

Lightweight rattan material enables easy movement of the furniture to your preferred location

Adjustable canopy offers shade from the sun if required

Grey seat cushion contains a soft, thick sponge and can be washed

Lightweight rattan material enables easy movement of the furniture to your preferred location

Cushions are coloured charcoal grey

Easy-assembly design

150cm round bed
Included in this product:
1 x Stool 89 x 41 x 27cm

Overall dimensions: 150 x 148 x 45cm
The Latest Outdoor Daybed
Allows you basking in the sun, reading your favourite book with a cup of drink.
Separable Design For Easy movement
This unit is divided into two front or rear parts with an additional long footstool, which could be easily lifted up for a quick movement.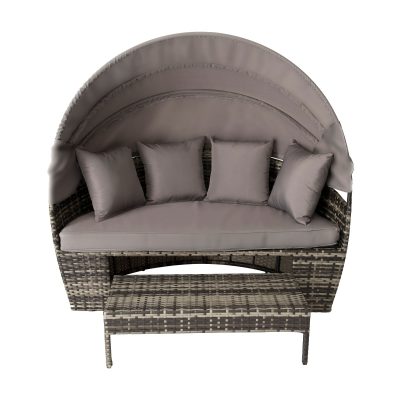 Flip-type Canopy
When you embrace nature and suddenly feel the sunlight is dazzling, you can easily flip down the canopy above. It won't make any sense for reading your magazines and enjoying the Australian sunshine.
Premium Cushion Comfort
Extra thick, foam-based cushions provide incredible comfort, while removable covers make washing quick and easy for sparkling results year-round.